The Key Guys Service Many of the Twin Cities Top Car Dealers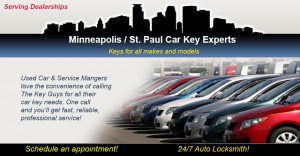 The constant churn of vehicles in and out of your lots leads to the frustrating but not uncommon problem of lost and misplaced car keys.
Customers want additional copies of their keys.
And occasionally keys break, or require reprogramming.
The Twin Cities #1 Car Key Locksmith for Car dealers is the Key Guys. Their fleet of vans cover the entire Minneapolis St Paul metro area and can provide you with the quick service you need to serve your customers.
So when you need to replace a lost key, or reprogram and key, call us. 612-333-7677 for quick and professional service that will end up helping make your job easier.
We are your professional car key locksmiths and we are here to serve you.
Our Services Include:
Replacing Lost or Stolen Keys
Fixing Broken Keys
Making Spare Keys
Removing Broken Keys
Programing and reprogramming keys
Transponder Programing
Replacing Batteries, (We have them all)
Cutting new keys, from scratch if necessary
Fixing door locks and ignitions
Originally posted 2016-08-31 10:28:57. Republished by Blog Post Promoter
from Car Keys Made & Repaired – THE KEY GUYS – Car Key Duplication https://www.thekeyguys.com/car-keys-car-dealers/
via
IFTTT