We Make & Repair Car Keys for People in Roseville, Arden Hills & Falcon Heights, Mn
The Key Guys are proud to have won the 2015 Thumbtack Award as the #1 Locksmith in Minneapolis. However, we want to point out that we serve the entire Twin cities Metro Area including Roseville, Falcon Heights and Arden Hills.
We are specialized locksmiths focusing on the increasingly sophisticated car key and related remotes. The many new features for automatic door opening and anti-theft features have made the car key a trickier and more expensive part of your automopbile.
Your average hardware store clerk just does not have the skill and knowledge to fix or cut a new key for many makes and models. In fact many locksmiths are unable to keep up with the changes in the automotive industry. That has become our specialty. We are fully insured and bonded and certified to make your car key from scratch if need be.
Car manufacturers no longer let just anyone access the technology and information needed to program a key properly to defeat would be theives.
In additon to being able to repair or replace your keys, we can program your remotes, replace batteries, fix broken remotes when someone messes them up by trying to replace the battery themselves and related services.
These related services extend to fixing your ignitions and car doors when keys get stuck in the door, or when they won't turn when the key is in place.
The car guys serve the entire Twin Cities metro area and can respond to you 24/7.
If you have a Car Key Problem, call the Key Guys.

We primarily work with car dealers and car rental agencies who frequently need keys made for themselves and their customers. As such we have a fleet of vans that serve the entire twin cities area. We are bound to have someone near you. As such we can respond to any emergency quickly. Call us and we will get a van to you as soon as possible, should you be out and about and unable to enter or use your vehicle as a result of lost or broken car keys.
We are fully insured and bonded and recognized as expert auto locksmiths by independent associations such as Thumbtack and are the go to guys for most Twin City area Car Dealers and Car Rental Agencies.
See our playlist of videos at: https://www.youtube.com/playlist?list=PLV-lTIhq4rLkWGdRBlsvAGxnqo1c4mkSn
We also have a Google Site
Read all of The Key Guys blog posts here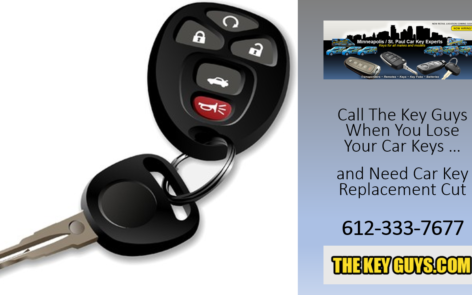 Originally posted 2015-10-02 10:51:07. Republished by Blog Post Promoter
from Car Keys Made & Repaired – THE KEY GUYS – Car Key Duplication https://www.thekeyguys.com/we-make-and-repair-car-keys-for-people-in-roseville-aden-hills-and-falcon-heights-mn/
via
IFTTT